Assessment
A biomechanical assessment could be beneficial to anyone who experiences persistent foot, knee, hip or lower back pain. Here is a list of common biomechanical conditions.
A biomechanical assessment is one hour long and consists of checking the range of motion and strength of the joints and soft tissue in the legs and feet.
The assessments take place in our dedicated Biomechanical Treatment Room. The patient is asked to walk barefoot either along the floor or on a treadmill, if deemed suitable for the patient, using our video gait analysis system. This process is then repeated again with the patient wearing their daily footwear and/or sports footwear, as we advise these are bought along to the assessment.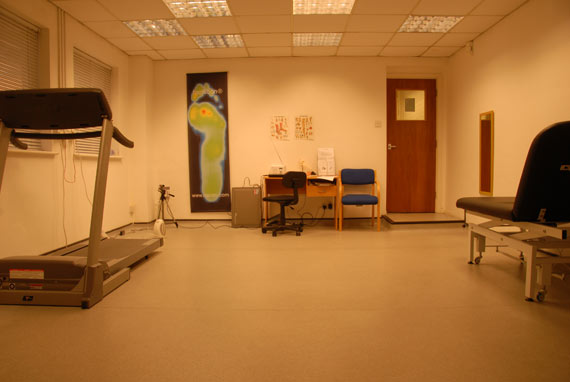 The use of a pressure plate is also available at the podiatrists' discretion. The patients are requested to bring shorts for the biomechanical assessment in order for the podiatrist to have a clear view of the legs and feet.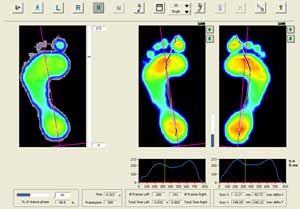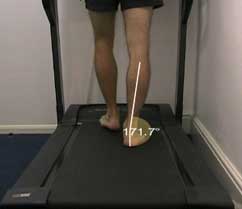 The information gathered from the assessment can then be used to give a diagnosis and to construct a treatment plan which may include orthotics (permanent insoles), Temporary insoles/padding, exercises, footwear advice or a referral to an appropriate health professional or GP if necessary.
Orthotics and Insoles
Orthotics are placed in shoes to offer increased support allowing the feet to function more efficiently or to provide a cushioning effect to try to provide relief from any symptoms in the patients feet, knees, hips, or lower back.
We offer a range of orthotics to suit everyone's requirements and budget; the Podiatrist will be able to recommend the most appropriate type of device suitable for each patient depending on their presenting complaint, daily activities and choice of footwear. Orthotics can be made to fit high heel shoes and not just sports shoes.
Temporary Insoles
Temporary Insoles enable the patient to experience the benefit of an insole before choosing to buy a permanent orthotic. They can also provide a patient with some instant support or cushioning as they can be made during the appointment and taken away on the day. They can also be beneficial for anyone who just requires some short-term relief. We can also provide patients with 'off the shelf orthotics' which are ready made devices that are sometimes suitable for children or those who do not require substantial support.
Permanent/Casted orthotics
Permanent/Casted Orthotics are made to measurement taken from the patient's feet during their consultation.
The Podiatrist will recommend the most appropriate orthotic materials, which range from rigid carbon fibre to softer cushioning materials, depending on the patient's requirements and choice of foot wear.
Casted orthotics require an impression of the patient's foot to be taken (either with plaster of Paris or a foam box) for the orthotic material to be moulded around giving the patient a custom-made device offering them patient the best possible fit and support.
The casts are sent away to an orthotics laboratory to be made up to the Podiatrist specifications and usually take about two to three weeks to be returned to the clinic ready for fitting. These can be returned within three working days on request; however there may be an additional £20 charge.